Welcome to Queen City Bullys
We are Aaron and Carli Carpenter, a husband and wife team who are responsible American Bully and French Bulldog breeders and full time whelpers. Our business has been operating since 2016 and we are proud of the exceptional care we provide our dogs. 
Our Approach As Breeders 
At our home based breeding facility, we focus on whelping and raising our litters. We give constant attention and care for our newborn puppies and their mothers. 
Our breeding program is dedicated to improving the quality of our stock and producing healthy, high quality dogs. 
We offer full breeding rights, as well as discounted pet home options. For those customers that are unable to pick up their puppies in person, we provide safe and affordable shipping options. 
Health and Wellness of Our Puppies 
Before leaving our care, each of our puppies receives age appropriate vaccines and deworming. We send each puppy home with a care package. This package includes food, toys, and information about their medical history.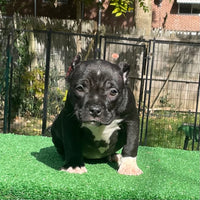 AVAILABLE PUPPIES
For more information on available puppies, call or text (513) 301-3379. All puppies come with papers and shot records. Shipping is available.
CLICK HERE TO SEE PUPPIES